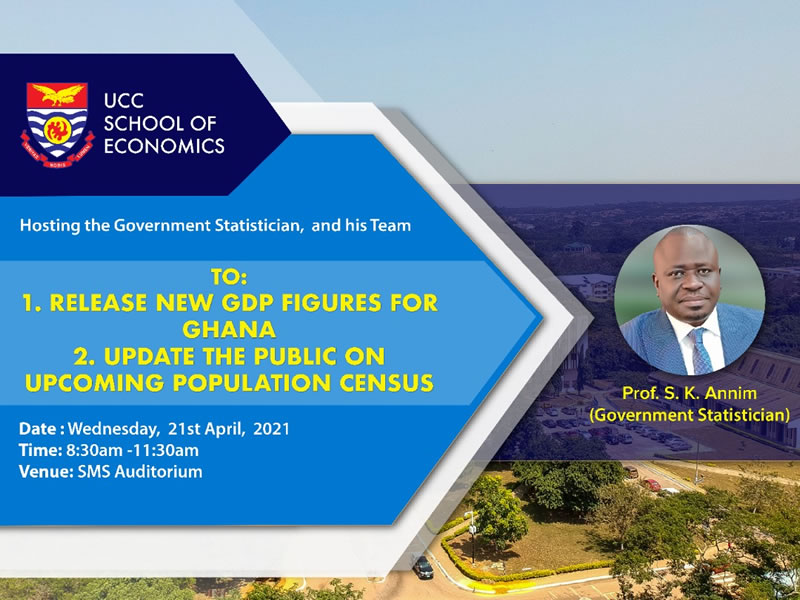 Government Statistician and Chief Census Officer, Professor Samuel Annim made a presentation on the 2021 Population and Housing Census (PHC) for Prospective Data Users at the University of Cape Coast (UCC). The event which took place at the School of Medical Sciences Conference Hall on Wednesday 21st April preceded the press release of the 2020 4th quarter and annual GDP.
The event was chaired by Professor Francis Eric Amuquandoh, the Provost of the College of Humanities and Legal Studies at the University of Cape Coast. In his opening remarks he highlighted the importance of censuses which date back to before the birth of Christ when Mary and Joseph travelled to Bethlehem to do their civic duty. He reiterated that participation in the 2021 PHC was also a civic responsibility because the nation needs to know current numbers, distribution, and growth rates for effective planning.
The Pro-Vice Chancellor, Professor Dora Francisca Edu-Buandoh also gave welcome remarks on behalf of the Vice Chancellor. She took the opportunity to welcome Professor Annim and the team from Ghana Statistical Service and noted the pride of UCC to have a colleague leading the census and to speak to the university community on the census. She stated that the census is important to provide data to tackle the nation's challenges and she was happy that students and colleagues were present so that they can carry the message to others who could not attend.
Professor Annim's presentation highlighted the thematic areas of the 2021 PHC questionnaires and the operational newness of the 2021 PHC. He provided information on the census data to be generated including at least a 100 ways the data would be used. He also presented detailed examples of innovative ways researchers can utilise the 2021 PHC data by integrating with other sources and a snapshot of some of the research questions that can be answered using the census data. He ended by highlighting the potential areas of strategic partnership between the University Community and the Ghana Statistical Service during the census exercise.