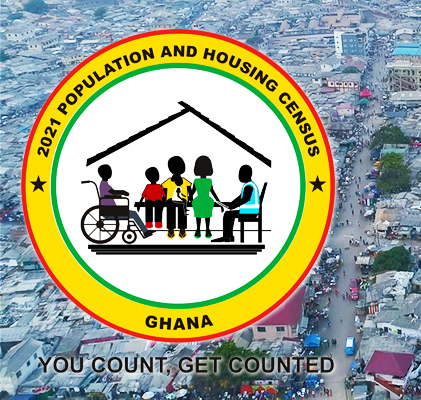 Importance of conducting the census
The Legal Authority for conducting this Population and Housing Census is the Statistical Service Act 2019 (Act 1003). This Law empowers the Government Statistician to conduct statistical surveys and any census in Ghana. In the last decade, almost all global and national development agendas have consciously called for inclusivity of all persons, especially the vulnerable, leading to the phrase leave no one behind. This clarion call has emphasized the need for nations to conscientiously undertake the age-long recommendation of a decennial Population and Housing Census (PHC) without gaps and as a constitutional responsibility of every government. To this end, the conduct of a PHC must primarily ensure that everyone is counted, enumerated once and at the right place. These three conditions are the primary quality assurance indicators and constitute the basis for realizing the merits of conducting a PHC.
The conduct of a PHC in 2021 compellingly, transcends a constitutional mandate given the severalty of global and national happenings and development aspirations as well as technological innovations underscoring data capture and use. The 2020 PHC will provide an indispensable framework in using administrative data to track the national, regional and global development agendas namely the Coordinated Programme of Economics and Social Development Policies, the Africa Agenda 2063 and the Sustainable Development Goals (SDGs). While the PHC as a standalone data source has been identified to provide data to the lowest level of disaggregation to monitor some of the SDG indicators, it is the basis upon which the other sources of data for tracking the SDG indicators will be determined and benchmarked. It is therefore imperative that the 2021 Census ensures everyone is counted, enumerated once and at the right place.
The data revolution agenda which is underscored by technology has widened the scope of data sources, created an avenue for validation across different data sources and more importantly, equipped planners with a wider array of development alternatives. Specifically, the complementary or in futuristic terms, the substitutability of traditional sources of data (censuses and surveys) with fast emerging reliance on administrative and big data across the globe, calls for a must and accurate conduct of a PHC in 2021. The conduct of a PHC in 2021 will provide a framework to validate data from different sources and engender the transition to contemporary modes and sources of data for planning.
Check
Application Status?
The shortlisting of Data Field Officers will commence in January. Kindly ensure that all your application details are complete and correct to ensure you are eligible to be shortlisted.
Check Your Application Status Today!