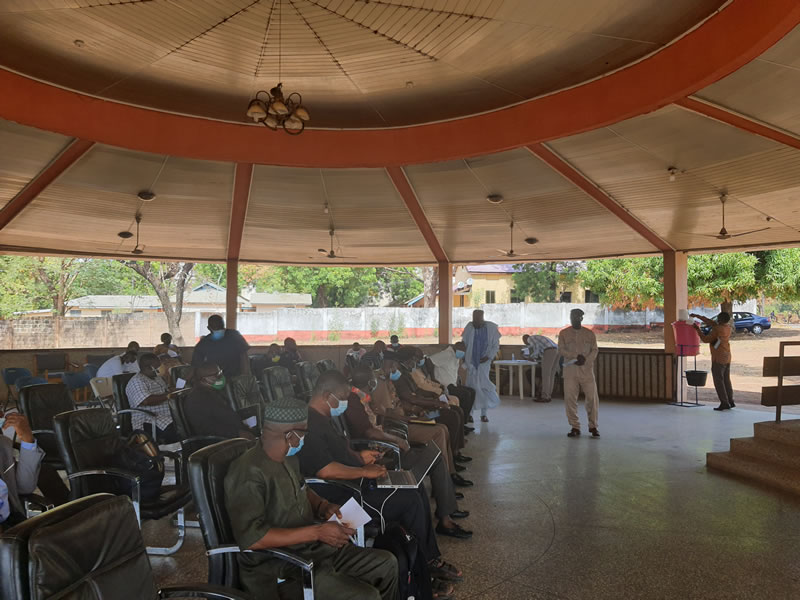 The Ghana Statistical Service organised an information session for the Northern Regional Census Implementation Committee (RCIC), Coordinating Council and other regional stakeholders in the Tamale on Tuesday 20th April. The session was chaired by the Chief Director of the Northern Regional Coordinating Council Alhaji Issahaku Alhassan. In his opening remarks, he expressed his great pleasure to invite all to the information session which was being organised to prepare the region for census implementation. He stated that the RCIC must be ready to take over the reigns because there is less than 70 days to go. He informed the group that the Regional Minister has given the firm assurance that the Northern Region is ready. So he advised them not to take anything for granted because the success will be determined by strategies and processes put in place. He said that the RCIC should meet frequently to achieve success because it is important to get good data. He concluded by reminding the group that wrong data is worse that data that is not available and so all should work diligently to get reliable data for policy and drive development and wished a fruitful session.
The Government Statistician and Chief Census Officer, Professor Samuel Kobina Annim, also gave his remarks. He stated that the session is meant to equip the RCIC and highlight the resourcefulness of the census data. He entreated all to go to the census website and take advantage of the resources available there. The decentralisation of the 2021 PHC operations was the purpose of the delegation from HQ meeting all Regional Ministers and Regional Coordinating Councils to formally hand over census implementation to the regions. He stated that the census aimed for complete coverage and quality data and the support of the RCIC was particularly needed to ensure all persons in hard to access areas are counted. He also urged to ensure that the tablets were securely stored and protected so that they could be re-used by other state agencies such as GES and GHS after the census.
The presentations for the regional information session presented an overview of the census, highlight the resourcefulness of the census data, discuss the activities for the 100 days to Census Night and preview the Regional Field Strategy.