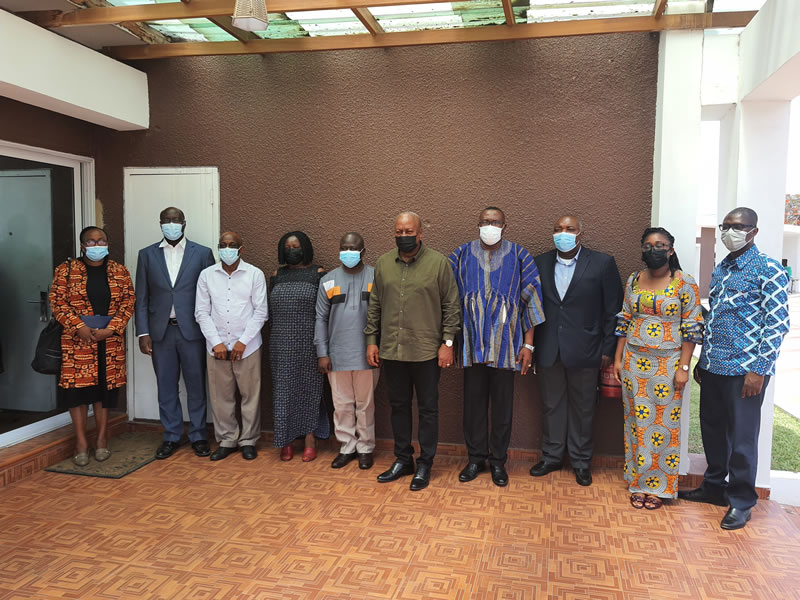 A delegation from the Ghana Statistical Service lead by the Government Statistician and Chief Census Officer paid a courtesy call on the fourth president of the fourth Republic, His Excellency John Dramani Mahama on Tuesday 20th April at his office in Accra. The purpose of the courtesy was to solicit the former president's support for census publicity, education and advocacy activities. In accepting to play a leading role in making the Census a successful national event, acknowledged the importance of Census in national development and disclosed his involvement in the previous censuses. The former President remarked that he was involved in the 2000 Census Planning as a Minister for Communication, and in 2010 as the Vice President of the country, the Census coordination was placed under his leadership. He thus told the leadership of Statistical Service that they were preaching to the converted and he expressed his readiness to highlight the need for all residents to get involved in the Census.
Former President Mahama further noted that the Census should have taken place in 2020 but for Covid-19 and encouraged the Service to ensure the total involvement of churches and mosques as Ghana is a country of faith, and that the leadership of these institutions could galvanize the support of their members. He also admonished the Service to guard against situation where people would travel to their hometowns to be counted as it happened in the Bible as such a data could distort the real picture needed to guide national development.
The former president met thedelegation with Prof Naana Jane Opoku Agyeman, former Vice Presidential Candidate of NDC; Mr. Ofosu Ampofo, NDC Chairman; Mr. Seth Tekper former Finance Minister, and Mr. Ato Forson, former Deputy Finance Minister. The delegation from GSS comprised members of the Governing Board and the Census Coordinating Team.