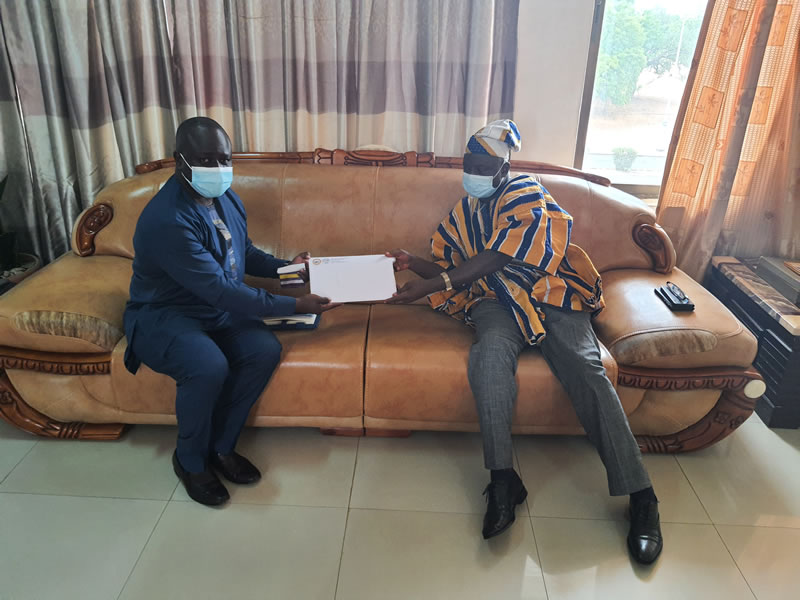 As part of 100 Days to Census Night Activities, the Government Statistician and Chief Census Officer, Professor Samuel Kobina Annim paid a courtesy call on the Upper East Regional Minister, Honourable Stephen Yakubu in Bolgatanga on 19th April 2021.
Professor Annim informed Honourable Yakubu that the day was the 69th day to Census Night and that the census was now past the preparatory stage and well into the implementation phase. He said that the courtesy call was part of a nationwide tour to hand over census implementation to the regions and bring some key issues to the attention of the Regional Minister.
Not the mandate of GSS. He started with the issue of boundary disputes which posed a challenge to the enumeration during the last census. He stated that GSS does not want to be prevented from counting because of boundary disputes and was soliciting the support of the regional leadership in that area. He also requested support in implementing effective strategies for enumeration in communities cut off when it rains and areas prone to conflict. Other areas of support he touched on included publicity, education and advocacy (PEA), and the securing of storage facilities and office spaces for the exercise.
Honourable Yakubu thanked the delegation for the visit and acknowledging the importance of censuses for every country. He added the mandate of GSS was critical because data poses a challenge to Ghana's development as a nation. He informed the team that the Regional Coordinating Council is taking the census very seriously and ready to give the maximum support. He personally always ensures that he is counted in every census and recalled that he was enumerated in Kumasi during the 2010 PHC.
He stated that the PEA was really needed to raise awareness of the importance of the census, educate the public on the benefits and really convince people that the exercise is important in the long run for the planning of the country. He pledged the support of the region in the areas outlined. He further expanded on the unique challenges faced in their context in the area of boundary disputes with intra-regional, inter-regional and international disputes all existing. He ended by assuring the delegation from GSS that the RCC are their partners and would help them to achieve success.